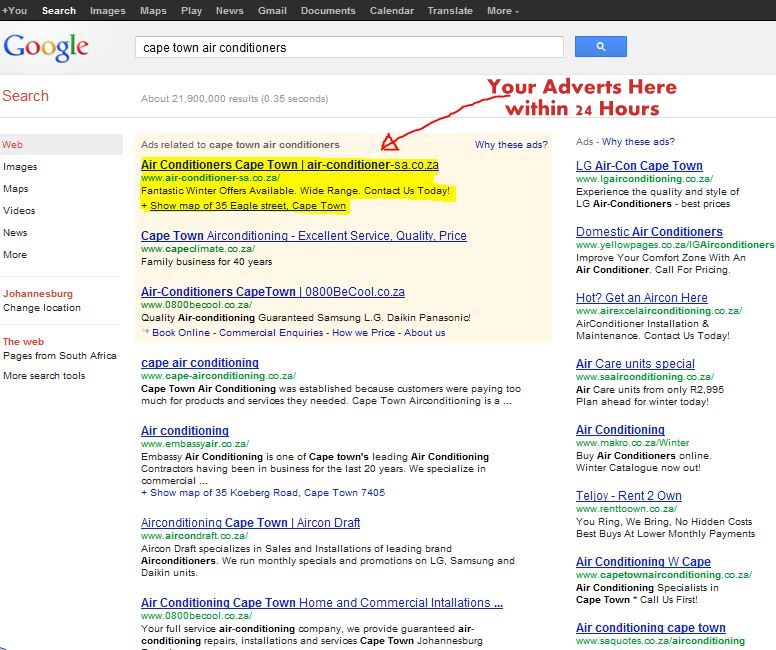 .
A business can only grow if it can find enough new customers…. so how do we

guarantee

that you will get new clients with results?
Here's how we do it ……….
1
 
Analyse your market –  We do the research on Google to see how many people are looking for what you sell. Based on the number of searches we'll tell you how many new inquiries you can expect every month.  We recommend what niches in your business to target and find new customers for.
 2
 
Create advertising campaigns – We build adverts that specifically target searchers looking for what

you sell

. Our adverts are written in such a way that they "jump out" at the client looking for your products.  More than 10% of folks that see our ads on top of the Google page will click on it to see your website.
3
 
Create a "Google Friendly" website – We then create your "Google Friendly" website to collect your inquiries.  These detailed inquiries land on your desktop the minute the client fills out the form.  You just need to call the client to make the sale! No cold calling!
4  
 
Switch on – Because the website is created specifically around searchers looking for exactly what you sell, Google places your adverts

***

right at the top

of the search page and…..  as the website and the adverts are very relevant to the search terms the client uses to find you, Google rewards you with the

***

lowest costs

for advertising.
 
 
  

***

We guarantee this!